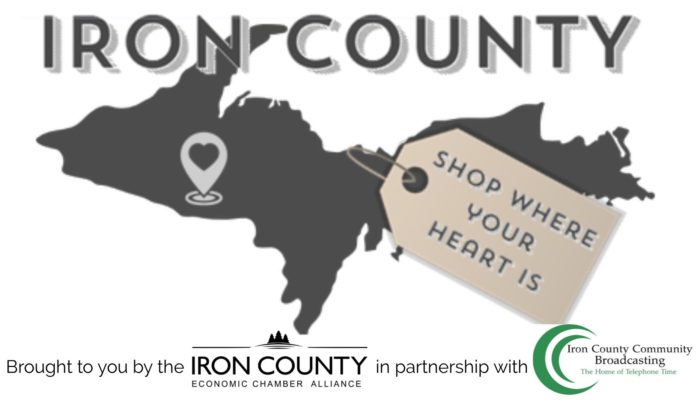 "Shop Where Your Heart Is"
The Iron County Economic Chamber Alliance (The Chamber of Commerce) and Iron County Community Broadcasting have partnered to bring Iron County a shop local campaign. "Shop Where Your Heart Is" is designed to increase sales in locally-owned Chamber member businesses, to encourage local consumerism, and to raise awareness of the importance of supporting local businesses.
How it works
For each receipt with a minimum of $20 spent at locally-owned, participating Chamber member businesses, the consumer will earn one ticket in a drawing for prizes totaling $250 which will be purchased from the campaign participants. There's 3 ways to participate:
¨ Bring your receipts in to the Chamber Office
¨ Email a photo of your receipt (make sure date of purchase is visible) with your name and phone number
¨ Personal Message it to us via Facebook!
At the end of that current quarter, we'll be on 99.1 FM WIKB to announce the winners!
Where to Shop
The current list of participating businesses are as follows:
Alice's
Angeli Foods & Angeli Video
Beef-A-Roo
Bigari Ace Hardware
Bikes & More
Central Arts & Gifts
Charlie's Emporium
Contrast Coffee
Crystal Lumber and Hardware
Crystal Steel House
First National Bank & Trust
Fob's Restaurant
Forslund Building Supply
Iron Inn
Kermit's Bar, Pizza
KFC
Logan's Place
Miners State Bank
T's Family Restaurant
Northland Service and Power Sports
Oberlin's Kitchen and Bath
Pedalers & Paddlers
Riverside Pizzeria
Scott's Subs and Pizza
Stateline Chevrolet
West End Home Furnishings
White Water Associates
Wink's Woods
The participating businesses will have a special poster in their storefront. Check the list often as it is updated regularly. Be sure to shop at these special locations and bring your receipt of $20 or more to a drop-off.
Drop Offs
Visit the following locations to drop off your receipts and fill out the form to be entered into the quarterly drawing. After the quarter's drawing, we will start over so be sure to continue to visit these businesses!
For more information or questions, contact Leeann at the Chamber via phone at 265-3822 or by email at info@iron.org.