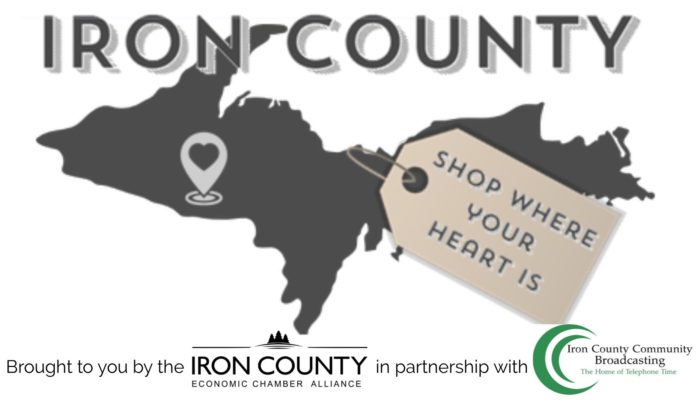 "Shop Where Your Heart Is"
The Iron County Economic Chamber Alliance (The Chamber of Commerce) and Iron County Community Broadcasting have partnered to bring Iron County a shop local campaign. "Shop Where Your Heart Is" is designed to increase sales in locally-owned Chamber member businesses, to encourage local consumerism, and to raise awareness of the importance of supporting local businesses.
How it works
For each receipt with a minimum of $20 spent at locally-owned, participating Chamber member businesses, the consumer will earn one ticket in a drawing for prizes totaling $250 which will be purchased from the campaign participants. There's 3 ways to participate:
¨ Bring your receipts in to the Chamber Office
¨ Email a photo of your receipt (make sure date of purchase is visible) with your name and phone number
¨ Personal Message it to us via Facebook!
At the end of that current quarter, we'll be on 99.1 FM WIKB to announce the winners!
Where to Shop
The current list of participating businesses are as follows:
5 Star Marketing & Distribution
906 Technologies
Alexa Forest Products
Alice's
Alternative Healing Center
AmericInn Lodge & Suites
Andrew Davis Pc
Angeli Foods
Aramark Uniform Services
Aspirus Gift Shop
Aspirus Iron River Hospital & Clinics
Basso & Basso
Beechwood Historical Society
Beef-A-Roo
Bigari Ace Hardware
Bigfoot Hideaway Motel
Bikes & More
Bink's Coca-Cola
Brule River Cabins
Brunswick's Collision Center Inc
Carrie Jacobs Bond Quilters
Central Arts & Gifts
Charlie's Emporium
Chippewa Resort, LLC
Chippewa Sno-Kats
Connor Sports Flooring Corp
Constellation Energy Services Inc
Contrast Coffee Co.
Cooks Run Cedar Inc
Cooper Office Equipment Inc
CoVantage Credit Union
Covenant Point Bible Camp
Crystal Falls Business Association
Crystal Falls Contemporary Center
Crystal Falls Health Mart Pharmacy
Crystal Falls Library
Crystal Falls Lions Club
Crystal Falls Museum Society
Crystal Falls Senior Citizens
Crystal Home Interiors, LLC
Crystal Lumber Company
Crystal Oil, Inc.
Crystal Steel House, INC
Crystal Theater
Crystal Waters Resort
Danielson Insurance Agency Inc
Dave's Four-Season Service
Dedo Electric Inc
Dickinson Area Partnership
Dickinson-Iron Com. Services
Dickinson-Iron District Health Dept.
Dina Miah Kitchens Inc
Elson's 2 Tracks, LLC
Essential Kneads Massage
Expand Farm Products
E-Z Car Washes
Fa Industrial Services Inc
Fast-Air Internet
First National Bank & Trust
First National Bank of Crystal Falls
Florence County Chamber
Fob's Inc
Forest Park Schools
Forslund Building Supply INC
Fortune Lake Lutheran Camp
Friends of Camp Batawagama
Full Circle Fitness Fight League
GEI Consultants
General Concrete Inc
George Young Recreational Complex
Global Response North
Great American Disposal Co
Great Start Collaborative
Greencliff Lawn, Landscape & Snow
Habitat for Humanity
Healthmarkets
Hebert Construction
Hilberg Cabins
Hilberg Logging
Holiday Station Store
Huntington National Bank
Infield Bar
Interpose Productions
Iron Co. Community Broadcasting
Iron County Fair Association
Iron County Golden K Club
Iron County Historical Museum
Iron County Internal Medicine
Iron County Medical Care Facility
Iron County Pullers Association
Iron County Reporter & Shoppers Guide
Iron County Watershed Coalition
Iron Inn Motel
Iron River Auto Supply
Iron River Co-Op Tv
Iron River Country Club
Iron River Family Foods
IronLine
Itax
Jacobs Funeral Home
Jacobs-Plowe Funeral Home Inc
Kara's Generations
Kentucky Fried Chicken
Kermit's Pizza Pub & Grill
Kinship of Iron County
K-J Automotive
Krist Oil Company
Lac O'Seasons Resort
LaChapelle Insurance Services
Lake Shore Systems
Logan's Place
Lud Stoor Agency Inc
Magiglide Inc
McDonald's Restaurant
Michigan Works
Mike's Crane & Dozer Service Inc
Mr. T's Family Restaurant
My Hero Media
Nash Creek Excavating
Nash Funeral /Cremation Services
Nicolet Sign
North Country Website Design
North Twin Builders, LLC
Northeastern Products Corp
Northern Concrete Inc
Northland Service and Power Sports
Northwoods Animal Shelter Inc
Northwoods Family Physical Med.
Northwoods Singers
Oberlin's, Inc
Office Planning Group
Ottawa Vfw Post #3134
Paint River Hills Campground
Paint River Landing Co
Pasty Corner
Penny's Pampered Nails
Petrucelli & Waara P.C.
Pirttilampi Electric
R&R Shamion Trucking Inc
Re/Max North Country
Results Broadcasting
Rise Up! Indivisible Iron County
Riverside Bar & Pizzeria
Rostagno & Haukkala
Ryan's Excavating
Saigh Family Dental
Scott R Kenney, CPA
Scott's Subs & Pizza
Sentinel Technologies
Shamco, Inc
Shopko
Silver Moon
Smed's Sales & Service
Snipe Lake Pub & Grill
Snyder Drug
Corner Drug Store
State Farm Insurance
Stateline Chevrolet
Steven J Tinti Law Office
Stine Investments LLC
Sylvania Outfitters, INC.
Tall Pines Grocery
The Miners State Bank
The Outpost
Thrivent Financial
Timberland Resort
Tony Fittante Sales
Top O' Michigan Insurance Agency
Trico Opportunities Inc
Tri-County Com. Services
U-Lock-It
UP Lakefront LLC Camp Lake Cabin
Up North Bar & Grille
UP Pro Rodeo Inc
UP Riverland Realty
Upper Great Lakes Family Health Center
Upper Peninsula Power Company
US 2 Rental
VanOss Forestry Services, LLC
Waterfront Products Co
Way Dam Resort
We Energies
Wells Fargo Bank
West End Home Furnishings
West Iron County Public Schools
West Iron District Library
Westphal's Inc
White Water Associates Inc
WIC Fire Department
Wild Rivers Realty
Wildlife Unlimited of Iron County
Williams Ready-Mix Inc
Windsor Recreation Authority
Wink's Woods Craft Shop
WLUC-TV 6
Wonder Sign, LLC
Wooden Nickel
Woodland Equipment Inc
Yeadon Energy Systems Inc
Zippidy Duda
Amasa Sawblade
Elson 2 Tracks Vegetable Farm
The participating businesses will have a special poster in their storefront. Check the list often as it is updated regularly. Be sure to shop at these special locations and bring your receipt of $20 or more to a drop-off.
Drop Offs
Visit the following locations to drop off your receipts and fill out the form to be entered into the quarterly drawing. After the quarter's drawing, we will start over so be sure to continue to visit these businesses!
Charlie's Emporium in Crystal Falls
Chamber of Commerce in Iron River
For more information or questions, contact Leeann at the Chamber via phone at 265-3822 or by email at info@iron.org.